Hans Sennholz Memorial Lecture: February 22, 2019
Dr. Anne Rathbone Bradley is the Vice President of Economic Initiatives at the Institute, where she develops and commissions research toward a systematic biblical theology of economic freedom. She is a visiting professor at Georgetown University, and she also teaches at The Institute for World Politics and George Mason University. Additionally, she is a visiting scholar at the Bernard Center for Women, Politics, and Public Policy. Previously, she has taught at Charles University, Prague, and she has served as the Associate Director for the Program in Economics, Politics, and the Law at the James M. Buchanan Center at George Mason University.
Institute for Faith, Work, and Economics profile
Ludwig Von Mises Memorial Lecture: February 23, 2019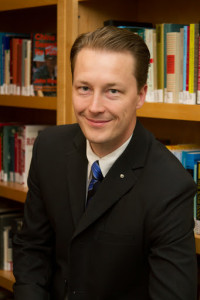 Per Bylund, PhD, is a Fellow of the Mises Institute and Assistant Professor of Entrepreneurship & Records-Johnston Professor of Free Enterprise in the School of Entrepreneurship in the Spears School of Business at Oklahoma State University, and an Associate Fellow of the Ratio Institute in Stockholm.